Fitness Attempt. HIIT Max, Day 1
So, for the last few months I've been following this account on Instagram called gymsecrets. It's pretty cool as it has videos of gym workouts, showing how to do them, and the area it affects, as well as nutrition tips, etc. After a while I noticed that it was promoting a 60 Day High Intensity Interval Training workout called HIITMax. I followed the instagram trail and started seeing the testimonials, Before and Afters, etc… The appealing part? It's a roughly 20 minute workout, plus a few rounds of ab work, and it's 3 times a week. For the last month or so Melissa and I have been eating healthier thanks to her 21 Day Fix via Beach Body. I figured I'd couple it with this, especially since I've fallen off the spin class wagon. Not to mention, it's pretty inexpensive! I pulled the trigger and started at 6:30 this morning.
Today's workout starts Phase 1 of 4. Each Phase is 2 weeks with a different set of workouts Monday, Wednesday, and Friday. The idea is high intensity, so things happen fast, with no rest between workouts, and a 1 minute rest between sets. Total time is 15 minutes. I then follow it up with a few rounds of ab work.
Phase 1:
Jump Squats for 15 seconds
Bird Dog for 1 minute
Jump Knee Touch for 15 seconds
Rest for 1 minute.
Do this 6 times.
I then followed it up with HIIT Max Abs 1 (out of 6, which you're supposed to rotate, never repeating the same one two days in a row):
Situp V, 10 reps
Spiderman Climber 20 reps
Leg Scissor for 1 minute.
Do this 2-3 times. I did it twice today. Didn't wanna go too crazy since this is my first workout.
Things are pretty simple. The only extra gear I'm going to need are dumbells, a jump rope, and a box (or bench), for box jumps. Those are for later phases.
As for Tech, I purchased the timer app called Seconds Pro. It was $5, but worth it. It allowed me to create a circuit timer that is fully customized for each workout. It includes a text to speech readout so it tells me what the workout is (funny to hear it say SitupV), then counts down the last 3 seconds. I created a segment called Switch to give me 5 seconds to get into position for the next workout. You can set up music too.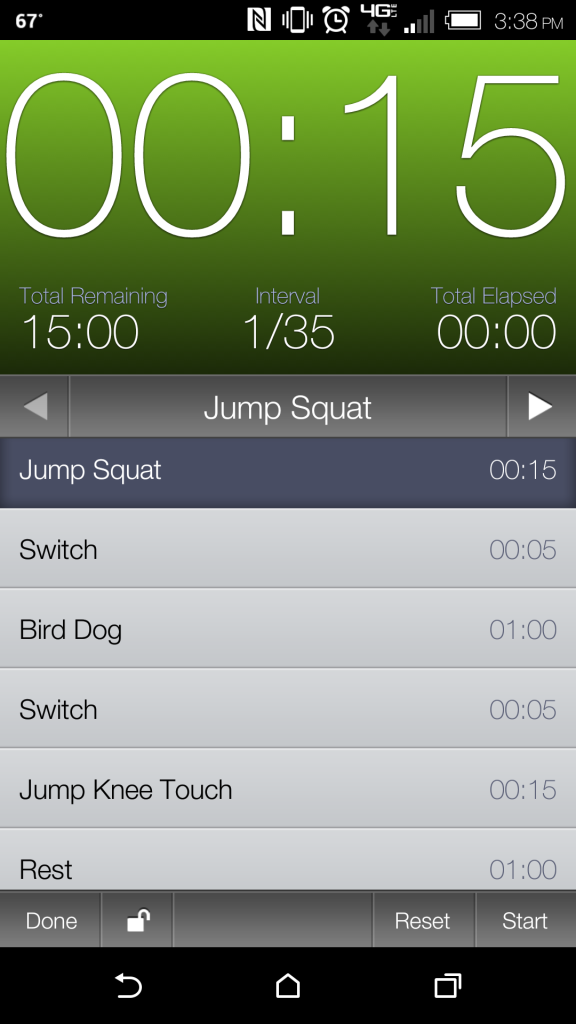 So my thoughts? I like it. It's quick. It's simple workouts, and I broke out into a major sweat. I'll start updating this as I go, and, eventually, I'll post some before and after pictures!
See you Wednesday!